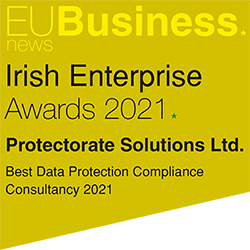 PRIVACY NOTICE FOR PROTECTORATE SOLUTIONS LTD.
Protectorate Solutions Ltd. are committed to safeguarding the privacy of your personal data. Please read the full Privacy Notice to understand how we collect and use your personal data, for example when you contact us, visit our website, or seek to avail of our services. The Data Controller is Protectorate Solutions Ltd., we can be contacted through info@protectoratesolutions.com or through our registered office, which is located at 3, River Front House, Howley's Quay, Limerick. Please note that whenever you provide us with your personal data, that processing it involves the collection, recording, organising, structuring, storing, adaptation, alteration, retrieving, consulting, use, disclosure by transmission, dissemination or otherwise making available, alignment or combination, restriction, erasure or destruction.
This privacy notice was last updated on 1st Oct 2020. We reserve the right to amend or vary this notice at any time in order to make sure it is up to date with the latest requirements and any changes to our privacy management practices.
A copy of the latest version of this policy will always be available on this page.